Have you been interested in cosmetic treatments, but held back by the idea of up-front costs?
At Eye Physicians of Long Beach we believe in providing our patients with advanced cosmetic surgery and treatment options. We take pride in helping our patients look and feel their best, and understand that cosmetic surgery has the power to change lives.
Because of this, it is important to us to remove the barriers that might prevent someone from getting the cosmetic care that will help them become their most confident self.
Cosmetic Financing with CareCredit
For cosmetic procedures not covered under a patient's insurance or vision plan, we offer financing through CareCredit. Cosmetic financing can help cover the cost of anything from BOTOX to eyelid surgery or even skin resurfacing. If you're looking to enhance your appearance and confidence through cosmetic surgery, CareCredit cosmetic financing can help make this possible.
If you have any questions about insurance and vision plans that we accept, please call our office and a member of our staff will be happy to answer any questions for you.
CareCredit provides patients with a means to pay for their procedure without having to worry or struggle with payments. They offer flexible financing plans that can meet your needs.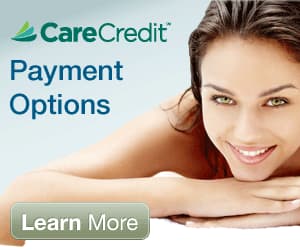 * Refer to disclosures with the payment calculator for more information.