CO2 Fractional Laser Skin Resurfacing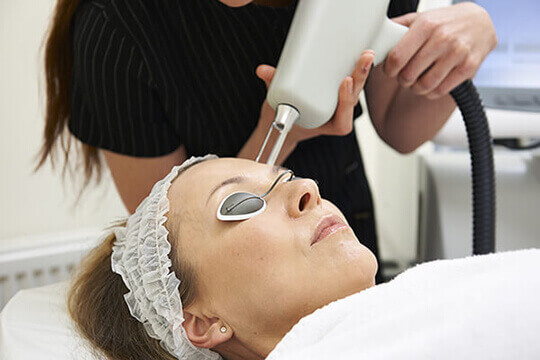 A common complaint we hear is the desire for a smooth and clear skin. Age, environment and genetics all play a role in skin texture and tone. While dermal fillers and BOTOX can help with wrinkles, they do not treat scarring, dark spots and enlarged pores. Laser resurfacing targets these problem areas by regenerating collagen production to produce smooth and young looking skin.
What Skin Problems Does a CO2 Fractional Laser Treat?
Sun Damage
Acne Scars
Enlarged Pores
Wrinkles
Skin discoloration
How Does the CO2 Fractional Laser Work?
A high speed Fractional scanner will direct a grid pattern of tiny pulses of light called Micro Ablative Columns (MAC) at the skin. Each MAC delivers a column of energy directed at the dermal layer of skin while preserving the untreated skin in between the columns. This process promotes rapid healing and stimulates a natural renewal process of the body's own collagen.
In most cases the actual laser treatment time takes less than 30 minutes. As tiny pulses of energy are delivered into the skin, most clients will experiences a warm, sharp feeling and immediate tightening of the skin. CO2 Fractional Laser Therapy minimizes wrinkles, sun damage, discoloration, stretch marks and scarring all while increasing collagen production through its revolutionary fractionated CO2 technology. Repeat treatment may be necessary to achieve optimal results.
Infini RF Microneedling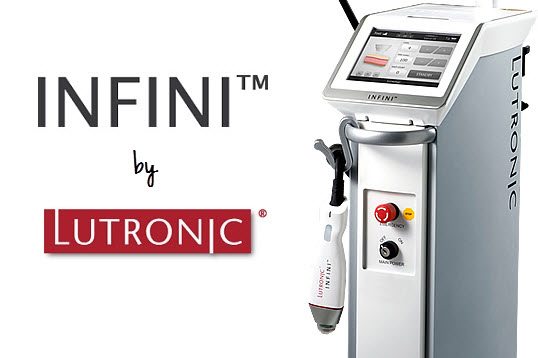 INFINI is a new dimension in radiofrequency (RF) technology used to address sagging skin, wrinkles, skin textural changes. The term micro needling may scare some people away, but it should not. The benefits of this technology are substantial and the downtime is minimal. Infini combines micro-needling technology with radio-frequency to stimulate collagen and elastic tissues without potential thermal damage in epidermis layer. This leads to collagen reproduction which not only improves scars and wrinkles, but also promotes long term skin tightening and pore size reduction with very short downtime.
What Does Microneedling Treat?
Fine lines and wrinkles
Acne Scarring
Stretch marks
Enlarged pores
Skin tightening
Active Acne
How Does Microneedling Work?
The RF microneedling device uses specially insulated needles that deliver high-intensity radio frequency energy into the targeted tissue once the needles have broken through the skin. This gives a uniform warming effect to the deep tissue, which helps to stimulate new collagen fibers to grow, leading to significant improvement to skin quality and texture.
A topical anesthetic cream is first use to reduce any discomfort. Patients report feeling a slight pressure sensation as the procedure is being performed. After treatment the areas may be red and slightly swollen for up to two days. Patients are likely to see improvements in skin tone and texture within a week with best results seen after several weeks as new collagen continues to build.
Microneedling and Laser Skin Resurfacing in Long Beach
Are you ready to transform the quality of your skin? If your confidence is suffering due to acne, scarring, wrinkles, or sun damage, it's time for an expert evaluation with a cosmetic specialist.
At Eye Physicians of Long Beach, our cosmetic surgeons and specialists combine years of medical experience with expert aesthetic training to provide the safest, most advanced medical skin treatments in Long Beach, California. Request your consultation today!