Upper Eyelid Surgery: Reduce sagging eyelids and remove excess fat.
As we age, it is common to see a difference in their eye area — more laxity, bags below and above the eye; sometimes so much that the upper lid seems to disappear underneath the extra fatty area under the brow bone.
Even with good skincare and eye care, wrinkles, puffiness and drooping eyelids will catch up to you. Genetic factors and body chemistry can cause these aging effects in younger people. Blepharoplasty, also commonly referred to as an eyelid lift, can give a more youthful appearance to an otherwise older, more tired looking, face.
What is Blepharoplasty?
Blepharoplasty, also known as an eyelid lift or eyelid surgery, is a procedure to correct the sagging or drooping of the eyelids and the removal of excess fat, skin and muscle. Blepharoplasty is one of the most common cosmetic surgeries performed on the face.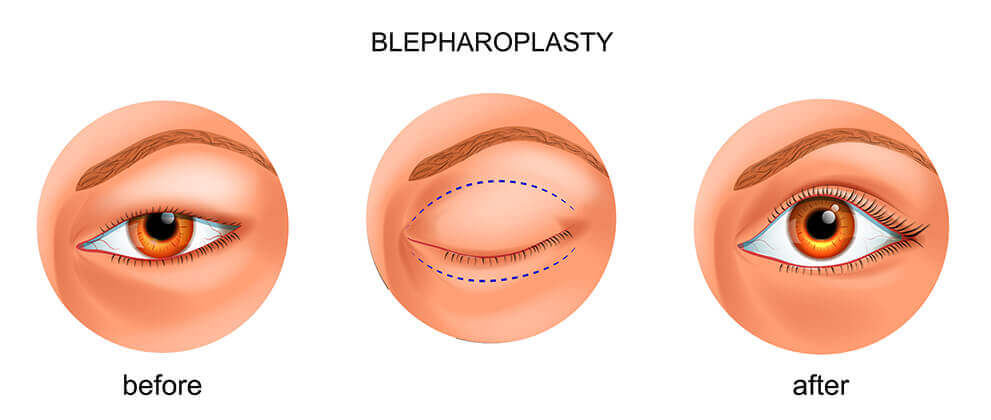 The blepharoplasty procedure involved the surgical removal of excess skin, fatty tissue, or muscle tissues that can surround the eye. The procedure can also help to reinforce muscle tissues and tighten them.
Every eyelid surgery is different, which is why it is important to choose an experienced oculoplastic surgeon to perform your blepharoplasty. An oculoplastic surgeon is specialized in cosmetic procedures that impact the eye, and can provide extraordinary results.
Blepharoplasty treats drooping eyelids, but not drooping eyebrows or wrinkles. Blepharoplasty is often performed with another cosmetic surgery such as a brow lift to improve droopy eyebrows, crow's feet, and facial sagging.
Are You a Candidate for Blepharoplasty?
The best candidates for blepharoplasty are physically healthy and are well informed about the surgery. Typically candidates are at least 35, though genetic factors may indicate treatment for younger people.
In some cases, blepharoplasty may be medically necessary; this occurs when a patient is experiencing decreased field of vision caused by excess skin. If a person's eyelids are causing difficulty seeing, the procedure may be covered by insurance.
You may not be a good candidate for blepharoplasty if you have any of the following conditions:
dry eyes
high blood pressure
hypothyroidism
cardiovascular disease
diabetes
glaucoma
Graves' disease.
Your anatomy, including bone and supporting structure, may also affect your candidacy.
Benefits of Choosing an Oculoplastic Surgeon for Eyelid Surgery
Oculoplastic surgery is a branch of ophthalmology that is focused on reconstructive and plastic surgeries surrounding the eye. Oculoplastic surgeons utilize a variety of cosmetic and reconstructive techniques that can treat conditions of the eyelids, tear ducts, and the orbit of the eye.
While eyelid surgery can be performed by a cosmetic or plastic surgeon, there are many benefits to choosing an oculoplastic eye surgeon to perform the procedure.
Whether reconstructive or cosmetic in nature, oculoplastic surgeons combine advanced ophthalmic knowledge with a keen understanding of cosmetic principles, which yields outstanding results for patients.
Upper Eyelid Surgery and Eyelid Lifts in Long Beach
Are you ready for a younger, more youthful appearance? Are sagging eyelids impacting your peripheral vision? If you are interested in learning more about Blepharoplasty at Eye Physicians of Long Beach, do not hesitate to set up a consultation.